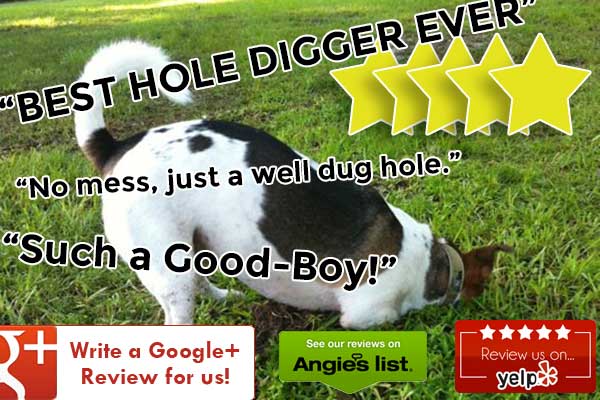 My dog Rusty is #1 at digging holes.
If you had to ask me ONE thing I think he is good at doing. It's Digging holes.
Most people passing by would either laugh or show a disgusted face. Rusty completely covered his long white and brown snout in dirt.
Rusty knows what he is good at and he doesn't hide it. In fact, he loves it! This is exactly what I teach other business owners. The cheapest most effective way to increase SEO and new customers. Use the one thing you are good at and promote it online.
It's all about showing off that one thing you are great at doing.

When is the last time you checked out your reviews about your business?  Most small businesses have a couple reviews (let's be honest they are family and friends leaving them anyway) Which is fine if you just started out a month ago. But as your business builds you need to create an automated process for asking people how the product or service was after they used it. Get that customer feedback going.
If someone absolutely loved what they bought from you, then ask them to leave a review and then follow up on it. You must realize that we are obsessed with reviews. Whether it's a new roof, a car, or even a $5 item on amazon. Most people read reviews. If you have a $1,000 product or service, you better believe that your prospects are going to need to see some reviews.
Reviews Build More Than Trust

What if I told you that Google ranks their searches based on more than just approximate location. They also include the reviews in the ranking. The way Google and SEO work in general is that the more positive reviews you have, the better business you are doing, the more likely you are to show up in a search.  Makes sense right? In fact, the algorithm that Google is trying to mimic is the human mind!  We typically only want to see the best-rated restaurants, coffee shops, and auto-mechanics available to us.
In fact, all search engines use reviews in one way or another to help rank you on searches. Yellow Pages, Yelp! and Google does this in one form or another. It's okay if you have a bad review or two, those will come and go. You can respond to them in a positive manner, asking if there was a way to improve your business, this is best done over the phone if possible.
How to Setup a Review Machine

You may have received emails before from various services you make a purchase.  Whether it's your mechanic, hosting provider or a local coffee shop survey. They all want to know one thing. "How was your service?". Personally, I fill these out always, because I am curious how deep they go with their questions. You can be assured that the more difficult the questions are in the survey, the less likely you are to get a positive review. It's rare that people fill out surveys unless there is a golden Amazon gift card dangling like a carrot at the end of a rainbow. (perhaps I am mixing metaphors but you get it)
Here are my secret steps to automating 5-star reviews
Step #1 – Keep it simple. After a successful purchase, send an email asking one question that determines if the customer's experience was great. Or if there was something lacking, you can determine this as well. You can keep out the bad reviews in case someone did not receive stellar service. This is important.
Step #2 – Segment the customers who answered less than 5 stars (or whatever you have setup via email) and contact them right away. Phone calls are always the best. It tells them you actually give a S#*t about their experience.
Step #3 – Follow up with the positive reviews. Give them a call to show your appreciation and ask what was the #1 things that stood out for them (you will probably see some patterns here for example "always on time", "got the job done right the first time" etc)
Step #4 – Email direct links to the review sites where they can 1-click to leave a review on Facebook, Google, Yelp etc. Make it super easy for them. They are going out of their way to help you.
Step #5 – Follow up 2-3 weeks later. Contact the 5-star potential reviewer and ask them how things are a few weeks after.  They may remember "Oh yeah I have to leave me a review…could you resend those links to me please" which can typically be the case for busy bodies. You never know when some wires could have got crossed.
Step #6 – Get this automated via email, but phone calls are really where it is at. It shows extra attention to detail. Train your staff to handle this or hire a service. I created an effective machine in my past business that followed through and up with every client that either did business with or wanted to do business with us. No matter what I wanted to know more about everyone who walked through my door, or showed up on my website.
Always Ask for Referrals
You do not get what you do not ask for. Tell your customer their friends and family need to hear about you. It's like they are doing them a favor by referring your business. Give your customer permission to talk you up. They will get the proverbial pat on the head. Some businesses offer affiliate or referral bonuses depending on the ticket item. You don't find coffee shops doing that, but for digital marketing, it's easy to track and maintain.
Final Thoughts
Take a page from #Delta on this one.  They would always ask me via follow-up (as a business owner) would I hire the person that helped me. This is probably one of the best questions to ask your B2B clients. You can develop similar Yes/No question for your customers. If the answer is no, then you should immediately address the issue. When the answer is yes, then you should follow up soon and find the trending answer as to WHY they keep coming back to you.
Find out what you are best at doing, and promote that. Turn it into an automated machine where your prospective clients will choose you over your competition. That's the best way develop better SEO for free online and to drive traffic through trusted reviews.