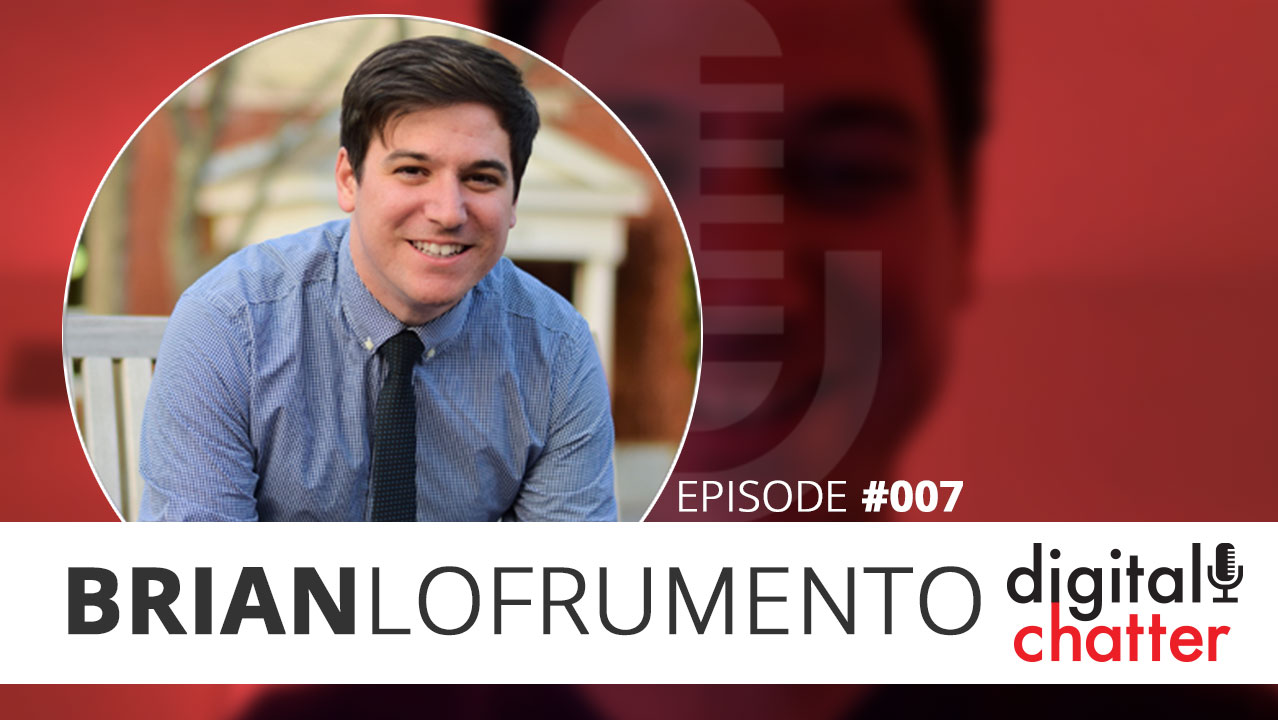 Digital Chatter Episode #007: Brian Lofrumento
Eric: Hello everyone and welcome to Digital Chatter. My name is Eric Sharpe and I'm here today with Brian Lofrumento. Brian, say hi.
Brian: Hi Eric. Glad to be here. Super excited to talk to your audience today.
Eric: Heck yeah, man. So Brian is actually has ended up being a great friend of mine. I have watched him grow over the last couple of years and vice versa, no doubt. And Brian is very similar to me. We are both young Internet entrepreneurs, serial entrepreneurs, doing lots and lots of incredible things on the Internet. And I brought Brian on today because he has a fairly unique experience and I wanted him to share it with you. So Brian what don't you tell everyone just a little bit about yourself.
Brian: Yeah I would love to. I mean so my entrepreneurial journey, depends how far back you want to go. I like to say that every single entrepreneur remembers their first ever dollar that they made. Eric, I'm sure that's true for you. And so I was 19 years old and I loved soccer. I still do to this day. I loved writing and I love the internet. So I figured why don't I write about soccer on the internet. I combined all three. So I started a soccer blog. It was called Premiership Talk and I was a freshman in college and I didn't know what I was doing. I didn't intend for it's be a business. But by junior year of college I had my first 1000 dollar day which felt really cool as a 21 year old back then I had a team of 20 writers all in England working for me. So it was a really upward trajectory from there and things really took off. Largely because when I was 16 years old I had this internship in high school that taught me about search engine optimization. So I used search engine optimization to grow this soccer sites over three and a half million readers from over 200 countries. So it became a worldwide phenomenon where people were tuning in.
Brian: And I was flying to England all the time. It's a really exciting journey. From there, I graduated college in 2011. Eighty thousand dollars in student loan debt. So everybody said to me what they tell every entrepreneur: don't be crazy, get a job. You need those benefits, you need to pay off those student loans. So I fell into that trap and I did exactly that and I took a job. I only lasted in corporate America for four months at my first job and 10 months at my second job before in 2012 I finally quit, started a search engine optimization agency. Grew it to six figures really quickly. That's about the time that I met you, my business partner and I went separate ways almost two years into our journey. So I really branched off and said "What the heck am I about?". And I did some soul searching I wanted to figure out who is Brian, what does he care about, what's his impact on the world's going to be. So since then I published Wantrepreneur to Entrepreneur. Paperback book that has reached readers in almost every single state in the United States and all across the world. I've launched one of the top business podcasts in the world, and I've created online programs and courses that have been gone through that have been purchased by over 3000 students from around the world. That teaches them how to build their own successful businesses online. So that's my story in a nutshell.
Eric: That's awesome. Perfectly done, Brian. Obviously you've practiced and done this before. I think a lot of people see you as a unique person and they think you know wow. He started off in college and he did this thing and he realized it wasn't for him. Coorporate America wasn't for for you. As it isn't for a lot of people out there. And what do you tell someone who is sitting in a corporate job for the last 5, 10, 20, 30 years. What do you tell that person that that just has that itch to get out of it.
Brian: Yeah that's a loaded question. There's like a million things that I could tell somebody who is in that position. But funny enough, so I'm a huge quote junkie and Eric you know that about me like I'll bust out business quotes and inspirational quotes until the cows come home. And I've always been that way when I was 6 years old I was that weird kid who always walked around the quote book that my mom gave me.
Brian: And so when you just asked me that question the first quote that came to mind is it's a Martin Luther King quote where he said "you don't have to see the whole staircase to take the next step." And I know especially for people who have fallen deeper into the corporate trap than I did. Like they've been working like you said 10 years in a job, 20 years in a job. It's never too late to start. And there are entrepreneurs who started when they were 50, there are entrepreneurs who started when they were 60. It's never too late to start. But the problem is is that it's so hard to start. It's so hard to take that plunge it's so hard to take that first step because you can't see the whole staircase. But the reality is every single entrepreneur has the exact same regret.
Brian: We all wish that we started sooner. Every single one of us. Yeah. The coolest thing about entrepreneurship is you can literally start today. Most people think that there are a series of steps that they have to take to become an entrepreneur. The reality is, Eric, and I know that you also subscribe to this philosophy, all you need is a customer. All you need is someone to give you money and you are an entrepreneur. You've got a business. And so my advice to them is figure out who the heck you want to serve and get someone to give you money for that and guess what you go out of business.
Eric: This is true and in fact I remember starting out some of my smaller businesses I didn't even need a paying customer. I got one person to try out something for me. Give me feedback so that I can go get the actual customer and whatever you know whatever method use to get that first customer. That's exactly right. There's, there's plenty of people out there right now talking about don't worry about all the customers.. This is.. One, you need one single customer. And then after that you know the ball is rolling and you get your two, three, four. Yeah that's right.
Brian: Let me throw something in there, Eric. Because you made a really important distinction there for so many entrepreneurs. And that is if you're focusing on anything that is not getting you a new customer then you're wasting your time. And I know a lot of intrapreneurs and that's why I wrote the book called Wantrepreneurs to Entrepreneurs.
Brian: I know a lot of wantrepreneurs who go home from work everyday and they've been at this for years in some of the worst cases. Where they say that they're starting a business but they're building a website, they're coming up with business cards, they're creating brochures and flyers, and they're coming up with a slogan. They're spending time on a business plan. That drives me crazy the number of people who do that. None of that is required. The only thing that's going to grow your business is getting people to pay you. So unless you're doing that you're wasting your time.
Eric: That's exactly right. That's exactly right. We're on the same page there. So Brian your background is in search engine optimization. You know there's plenty of other skills that you didn't have. Now how you know throughout your trajectory going up how did you take the skills that you had didn't have and made your business grow? Did you learn everything or were you aware how did you do it?
Brian: Yeah, great question. So this is one of my favorite concepts to talk about. It's called just in time learning. It's so easy to pick up like 50 different business books and just start cranking through it. And some of the most notorious wantrepreneurs that I know they do exactly that, like they're more well-read in the business world than I am. And it's because I'm super disciplined about the stuff that I learn. For example when I started my soccer website I didn't know how to create a website. I didn't know how to use WordPress. I didn't know a code in php or css. So I learned it as I needed to. Now Eric, I know a lot of entrepreneurs who say I want to start a blog and grow it to 10K a month. Well they go out and they figure, and they start reading about how you get traffic to a blog. How do you monetize a blog. How do you create a blog. The reality is, until you've got it created, you don't care how to get traffic because you don't even have a blog.
Brian: And once you do have it created you don't care about how to monetize it, because you don't have any traffic just yet. So it's all about just in time learning, it's about learning about the skills and gaining the skills that you need in that moment. And that's the difference between mature learners and immature learners. Immature learners, they love to learn and they'll learn everything but they'll use nothing. Mature learners utilize just in time learning. And they say this is the problem that's facing me right now. Let me master that.
Eric: That's a great point. I mean you know, entrepreneurs think they need to become brain surgeons overnight and that's completely incorrect. You know you don't need to learn step by step and then you realize hey I can just pay a brain surgeon to do this for me. I don't need to go all the way down that path, you know. I have found for me if anything takes more than 20 minutes for me to do, I'm either going to hire someone to go do it or I'm not like you say you know quickly read up on it, figure out just enough information and then push it out there and see what happens.
Brian: And Eric I think you're an interesting perspective in the industry because I mean you're kind of this tech guru that so many of us to lean on with tech questions and so often people let technology get in the way of them growing their businesses and it's so funny because I mean you know me I'm always smiling, I'm always laughing with people, I'm always super generous with my time and money and my attention.
Brian: And so I always like to listen to people and hear them out and help them however I can. But the one time that I find myself not being so nice to people is when they say to me "Oh you need to know about this new snapchat strategy", "you need to know about this new Instagram strategy." "Oh have you heard about that new thing that Facebook is doing." No I haven't. And to be honest I don't care. Like, I don't want to learn those things. I'm super disciplined in the things that I learn and that's the key to actually getting skills that you're going to use. Otherwise if you turn your head every time the wind blows you'll become a jack of all trades and a Master of None.
Eric: That's true. If you're the first mouse to keep going after this stuff. You're going to keep getting getting bit over and over and over and you know. Look it's your job to be on the forefront of Facebook, or you know Instagram, LinkedIn, whatever then if something new comes out that's extremely important and you should be on the forefront of that. But if you know, if all you're doing is running around and you know stirring up a lot of dirt and not creating anything from it, you're exactly right and you're doing nothing really.
Brian: Yeah and I'll add another quote here. "A man who chases two rabbits catches none."
Eric: Perfect, perfect quote. Absolutely. So Brian, tell me a little bit about you know, why do you do all of this? What's, what's, what do you get out of doing all of this?
Brian: Yeah, I mean that's a big question. I know that there's so many cliche answers that I could go with right now. Like obviously we all do it for money. It is part of it. Anyone who says that they're in business and they're doing it not for money well then why aren't they running a charity. Like why are they taking a profit whatsoever. So yeah I mean money is one of the byproducts but the reality is and I've known this ever since a young age. Money is simply a measure of how much value you're giving to other people. So Eric I mean if you go out there and you give value to a million people next week you're going to make a crap ton of money. It's that simple. There's no way that you could impact a million people positively and not make money from that. And so for me it's that impact that drives me and when I get e-mails from podcast listeners or from book readers and I just opened their eyes in some way where they said you know "Brian, what you said, or what you wrote, or the course that I took made me believe that that's possible." Like that's what it's all for for me. And that motto of anything is possible is really personal to me.
Brian: My mom's family fled Albania in the 1950s when it was under communist rule and they could have just sat there and been taken under control by the communists. But my grandfather and my grandmother there said no screw this. Like, we're going to get out of Albania, we're going to get to safety, and we were going to create our own reality. And so that's been ingrained in me ever since a really young age that anything is possible. You don't have to accept the circumstances that were given to you. And I believe that so deeply, Eric. Like anytime someone tells me "Oh Brian, you know, you can't do that". For example when I was writing my book people said there's no way you could write a successful book on business like Seth Godin has already done it and Tony Robbins has already done it. And when I hear people say that Eric do you know what my head goes to and they say you can't do that. I say no you can't do that. If you're telling me that it's not possible then you can't do that, but watch me. And so that's, that's really at the core of why do everything I do.
Eric: That's awesome. Yeah I mean, you, you've helped a tremendous amount of people. You know either either spark their business or get to that next level. And I think that's a lot of why people do in real life. People always want to get to the next level the next step. Whether it's working out at the gym, you want to get to the next level the next step. And so as we get complacent at the level that we are at and we think "I'm making, I'm paying my bills." You know, the business is running, I'm paying my bills and I'm a success, right. I think true entrepreneurs are always just trying to push that envelope and it's just, we're just never, it's just never good enough. I just want to go out there and help more people, get more clients, I want it to have more of an impact in my life. And it sounds like you have just been doing a phenomenal job and I know I do, I've read a part of your book. I have to admit I got it shipped to another location and I'm not back there yet. So I haven't been able to read it all the way through but I know what the resume is and some exherts and it's really phenomenal. So let me know, tell me. Tell me, how did you end up publishing a book? You know what let's dive into that.
Brian: Yeah, you want the real story. I don't know if I've told the real story in any of my interviews just yet so you'll get a Brian exclusive right here. So I was at an invite only event for entrepreneurs, really successful entrepreneurs down in Costa Rica and it's called Awesomeness Fest. You've heard about it 'cause we both know people who have gone as well. And so at awesomeness fests, it's about 350 like super high-end entrepreneurs at this event, it happens twice a year in exotic locations around the world. And so on the first day the speaker on stage Vishen Lakhiani who's the founder of Mindvalley. He stood on stage and he said "raise your hand if you've published a book" and dude I was sitting there and I was, how old there, I was probably 26 years old. And I looked around the room and I was like holy crap I'm like one of the only people in this room who has not written a book. And so I've always known that I had it in me because I've so much to say and I truly believe that nobody can write a book the way that I can. And similarly Eric, nobody can write a book that way the way that you can. And people who are watching this. Nobody can write a book the way that you can. Like we all are the only ones of us on the planet.
Brian: No one's ever written a book. The way that Eric Sharpe can write a book. So dude it's on you to do that because you're depriving the world of that. So when I got that in my head that I need to write a book I got home from Costa Rica super fired up and everybody always told me that writing a book is supposed to be hard. And I guess I never knew that. Which is awesome, I was too naive to understand that it was supposed to be hard. So I just sat down and I wrote 4000 words a day. And I think it was 13 days later. I'd written a 40000 word book which is, I don't know, 160 pages or something like that. So when you eliminate all of these beliefs that things are supposed to be hard all of a sudden they become attainable. And when you think about it, 4000 words a day. Dude we probably write that in e-mails and Facebook messages to each other a day. Like it's super easy to do it. So that's the real story behind it. And I sat down and I said "What are the most impactful lessons that I learned as an entrepreneur from the time when I was 19 to now I'm 28, and how do I put those on paper for people?"
Eric: That's awesome, that's awesome. And that is something that I've thought about as I get ready to write my own book. You know just just have a journal and jot down, you know, those sparks of memory that will generate the pages, and pages, and pages. Now I can think about is one Klein experience I had. That can be a whole chapter on customer service, or it can be a whole chapter on technology, or whatever it needs to be, and yet if we just find a way to you know make that happen and be like you were committed and just sit down and do it. You're right. You knock it out. You know limit.. Take away these limiting beliefs that it's hard. What is hard? Being a brain surgeon, yeah..
Brian: And people always say to me, they'll say things like "Oh Brian I started writing a book". The real secret to finishing Eric and this is a concept that Seth Godin talks about, the real secret to finishing is starting every day. So Eric, you're in Albuquerque, New Mexico, right? I can't keep track of you anymore. Alright, so you're in Albuquerque. I don't know, let's say you're a thousand miles away from me here in Los Angeles. Let's say you wanted to walk to Los Angeles and come visit me. Yeah. What would you do to walk to Los Angeles? That's a huge task. Just like writing a book is a huge task. Well you get outside right now and you'd start walking less and then tonight you're going to be 20 miles closer to Los Angeles, tomorrow you've got a decision Eric. Do I wake up and start walking towards Los Angeles again or do I stop right here? The secret is starting every single day if you start walking to Los Angeles every single day. Eventually you'll get here, but it takes that step of starting every single day.
Eric: That's a perfect example and even to add onto that you know maybe the first day I only go 10 miles, in the next day it's 12, the next day it's 20. You know, you learn. You actually teach yourself to start faster and you finish longer periods. You know, the same way you go to the gym and you work out. You know, no one can work out for five hours straight on the first day of going to the gym. So you're exactly right with that, that's a perfect analogy. So let's see where else should we take this? I mean we should have a little bit more fun here. We got.. we got plenty of time rolling here. So Brian you, you moved from the East Coast to the west coast. Tell me you know what are some of the differences in doing business in the East Coast and doing business on the West Coast.
Brian: Yes. It's actually interesting that you asked me that question and it kind of touches on something that you said a couple minutes ago. Where you said as entrepreneurs we always want more we always want more and that's what drives us. And for me I mean it was really the first week of December. It started snowing in Boston and I was just like no, I'm not doing this again. I don't have another winter inside of me. And so I started looking at where the heck so I want to live packed them my car drove west. Got out to Los Angeles on January 15th. And really the main motivator motivator behind it was what you said which is as entrepreneurs we always want more. And the key to being able to do that and always wanting more and always achieving more is to drown yourself with. And I know it's become a cliche in entrepreneurial circles that you are the average of the five people you spend the most time with but it's so true. And Eric when you challenge yourself in a new geographic location like you also did the East Coast to almost the best coast move in New Mexico you, you're so close. But I mean you do the same move, and any time you move you find out new things about yourself. And so being you know 3000 miles away from family, being here 3000 miles away from most of the friends that I grew up with it puts me in new position and you want to talk about motivation.
Brian: Dude, I can just drive 15 minutes and I'm in Bell Air or I'm in Beverly Hills looking at 30 million dollar houses or 45 million dollar houses. Now you want to talk about taking yourself to the next level. You can't be the biggest fish in that pond. And just like they always say: if you're the smartest person in the room, you're in the wrong room. And so for me it's part motivation, which I'm surrounded by people. I mean I drive down the street and I see a Bentley rolling down the street. Now some people hate the guy in the Bentley but I'm just like hey that's a normal dude who did something extraordinary, impacted a lot of people, gave a lot of people value. And that's why he has that. So for me it's not about doing business East Coast or West Coast because my business is entirely online. I work with people from all over the world, all coasts, USA, Canada, you name it and I'm working with people there. And it's more about who do I want to surround myself with. So that's what the move was all about for me.
Eric: And that's a very very good reason to get out west that's for sure. You know, I can tell you that traveling around and being in Albuquerque, Atlanta, anywhere that I'm doing work. It's always nice to have you know a small network of people that can work with them. Over the years I've developed that on Facebook and Linkedin and whatever. But, what do you.. What are your thoughts about coworking spaces and you know are you current or what is your workspace like right now.
Brian: Yeah good question. And especially interesting for this sort of avenue for us talk about this because a lot of people still don't know where they're productive. And so on Digital Chatter like all of these things play into how productive we are are the technology that we use.. Is that, is that an animal behind you?
Eric: I do. It'll make a quick apperance on this.
Brian: Loving it. So yeah, productivity is all about the tools that we use as far as technology but it's also our physical locations. And for me I'm very rarely. So right now I'm doing this interview in my home office but I'm very rarely actually here. So I'm a marketing advisor to a couple of companies here in Los Angeles. I've got free reign to work out of their offices whenever I want which is pretty cool. Sometimes I'm like the most stereotypical Internet marketer in the world and I go work at the beach and I feel like such a cliche but it totally works especially when you got WiFi.
Eric: Nothing wrong with that.
Brian: Heck yes. I work from coffee shops a lot. I love that it all depends on the nature of my work. I mean if I'm doing interviews I'm in the home office, if I'm recording the podcast I'm in the home office. But if it requires creativity dude I get anywhere. And I don't put pressure on myself to feel like I need to put so many hours in so I don't feel like I need to be in coworking spaces. I just pay attention to me and I know that I feed off of other people's energies so yeah I'll go sit in a coffee shop and do that, and put some headphones on or maybe even not. And I just find where I'm productive for different tasks.
Eric: I think that's great. You know that's a great call. I mean it.. Be wherever you need to be that day or that week you know. Do work in that location. And I was just backtracking to your whole point about you know surrounding yourself with your five closest people you surround yourself with more or less going to be the average of who you are. And I have found that working at a coworking spaces can be phenomenal. I mean the connections that I have made in coworking spaces has been great. Same thing at the gym, I've gotten clients at the gym because you go consistently in the gym. People see you and they just want to they want to be a part of you know your world and you're all connected. So I think it's interesting, you bring up the fact is you're right. You can work anywhere, you know you choose. Maybe your home is a better place today. You know going to the beach is nothing wrong. Getting your head clear going going out to the park and going out to wherever you need to be to do the work and get it done. Yeah.
Brian: Yeah, I mean one of the reasons why I am as productive as I am and why I can put so many things out into the world is because I never bang my head against the wall. Like yesterday for example I was working alongside one of my friends who owns a really, really incredible business that's like blowing up right now and him and I are both in this rut and we're sitting there. And I said dude why don't we just drive down to Manhattan Beach with the top down. And so that's what we did. Whereas most people say that they need to hustle, that they need to grind, like dude. I don't believe in grinding I believe in doing work when I'm doing my best work. So if I'm not doing my best work I'm going to step away and I give myself that freedom to do that. So I'm with you. And Eric I want to throw this out there because I feel like you and I have a distinct advantage over other people who don't do this yet. Don't underestimate those online relationships. Don't underestimate your friends in other places. Like Eric you and I text each other from time to time of something funny that we saw, or something that I mean we both have like you know boyish humor that we think is going to be hysterical internet memes track both of us up. So we'll share things like that to each other. I'll hit up Nat Harward who you and I both know, who is an incredible full stock marketer and developer and I'll hit him up in the middle of the day and be like dude can we just talk about sports or Salt Lake City or Los Angeles for 10 minutes. I need to get my head in the game. And so take advantage of those things. Find your productive self and don't bang your head against the wall. As entrepreneurs I feel like we have the responsibility to get rid of this grinding, hustling tone that like the Gary Vaynerchuk state of the world have set.
Eric: Yeah. This is true. There's certain things that Gary says a lot about what what he says is you know just shut the f* up and just get out there and do it. Which, to certain point is true. What you and I believe in and then there's this other part of yet you're right just grinding yourself day in and day out. And everyone is different.. You're either introvert, or an extrovert, or you're both or you're neither. You know find out what works for you and just do it and abuse it and do it as well as you can. I know I hate working more than two hours in a row without taking a break. But there's some people that can work all day. Never take a break and then you know 5:00, 6:00 o'clock rolls around and then boom, they clock out and they're gone. But these are great points, man. So what, what.. As we're winding down here, you know, what do you want people to really get out of our conversation today?
Brian: Yeah. One of the things that, I mean we talked about it at the beginning, but I want it to be the one thing that people walk away from here with is that: If you're serious about growing your business you need to be getting customers and clients, and if nobody's paying you then you actually don't have a business whatsoever you just have a hobby. And Eric, you and I were both in Orlando Florida for the beaver change conference and Suzanne Evans who's a really successful business coach she talks about hoes and bows and she says that a hoe is a hobby owner so a hobby owner in a bow is a business owner. Business owners get paid whereas hoes hobbyist owners they just keep themselves busy after work and way too many entrepreneurs are actually just hoes in disguise. And when I say "hoes" I mean hobby owners nobody get offended.
Eric: You made it clear but I love that you continue to make it clear. Just in case.
Brian: Yes so the one big takeaway that I want people to understand and Eric you live this you breathe this you understand this. And same with me and that's why we hit it off so well is that when it comes to getting new customers and clients it's just like fishing. You could do one of two things: you either swim after the fish one by one and drive yourself crazy, and starve. You try to get clients one by one and chase after them. Or you can set up systems in marketing funnels or bait that has the fish come to you. And that's a way better way to grow a business. And Eric you know this about me. And that's why we always talk about this. I believe that the second way is better like I can do these interviews in the middle of the day, I can go play tennis in the middle of the day, or go ride my bike in the middle of the day. Because I've got systems in place that these fish are coming to me no matter what I'm doing. I've set that bait up and that's why my business grows. Things like my book. Like that's an example of people who read my book. They want to work with me afterwards. People who listen to my podcast. My podcast is bait. It's all giving value so as an entrepreneur, sit down and say: How do I impact the world. What's the value that I give to people. How am I going to beat people beat those fish to come to me. Because when you're, when you're in a position where those fish are coming to you and you're not swimming after them then you're a real business owner. That's the big takeaway that I want people to get, Eric.
Eric: That's awesome. And by the way everyone, right around now you're going to see a link on the top right end corner. Ryan, what I'll do is I'll link them to not only your podcast but also show them a quick link to your right to your book there and thank you so much, man. You've been phenomenal. I think you add some great value and if anyone wants to get in touch with Brian as well, I'll make sure that there's a link on here to get in touch with Brian. So, thanks so much for being on the show. Appreciate it.
Brian: Thanks for having me, Eric. This was a total blast and actually if anyone wants to get a free copy of the book, which Eric you took me up on this. They can head on over to: imetbrian.com. Now that I've met- they've met me here on this interview. They can go to imetbrian.com. All they have to do is pay shipping and handling. I'll sign it to them because I'm a super cheesy dude who believes that handwritten things still have meaning in 2017. I'll sign it for you write a note and ship it out to you. So Eric, thanks so much for having me! I look forward to chatting soon.
Eric: That's awesome. Thanks so much.